Decentralization is disrupting utility business models. The communications industry is undergoing a parallel revolution. Christina Lefevre-Gonzalez of E Source looks at how both must reinvent themselves.
Last fall, I defended my dissertation on the current state of journalism. I argued that because journalists no longer are the only ones reporting information, and because journalism no longer comes from just traditional news venues such as nightly newscasts or newspapers, the relationship between journalists and the public has changed, as have public expectations of the press. Now—according to a 2013 Pew Research study(link is external)—50 percent of adults cite the Internet as a primary source of national and international news. Couple this with the rise of social media, and it's clear that information no longer flows in one direction. Digital technology allows the public to become reporters almost as easily as professional journalists can.
When I started at E Source last month as a senior analyst, I expected to learn about what is to me a distinctly new industry—utilities. But to my surprise, I've discovered parallels between what I learned as a graduate student about changes in the news business model and what I've learned as an E Source analyst about similar changes in the electric utility industry.
This is not to say that communications and utilities follow similar business models: Utilities are significantly more regulated than communication systems (broadcasting being a slight exception, not to mention the recent arguments surrounding Internet neutrality), and the commodities produced and dispersed by communication systems (information) are far more diverse than those produced and dispersed by utilities. However, the forces of technology-led decentralization under way in the communications business model also seem to be creeping into the electric utilities industry.
For example, the dramatic rise of photovoltaic technology for residential homes and businesses in the US has fomented a debate in the industry surrounding net metering as well as initiatives to re-collect lost revenue from customers who don't use distributed energy resources (Figure 1). A January 2013 Edison Electric Institute report(link is external) (PDF) on disruptions to the retail electric business states, "The threats posed to the electric utility industry from disruptive forces, particularly distributed resources, have serious long-term implications for the traditional electric utility business model and investor opportunities."
FIGURE 1: US grid-tied PV installation history and forecast
The Solar Energy Industries Association (SEIA) projects that the US will add another 22,000 megawatts of photovoltaic (PV) capacity between 2014 and 2016.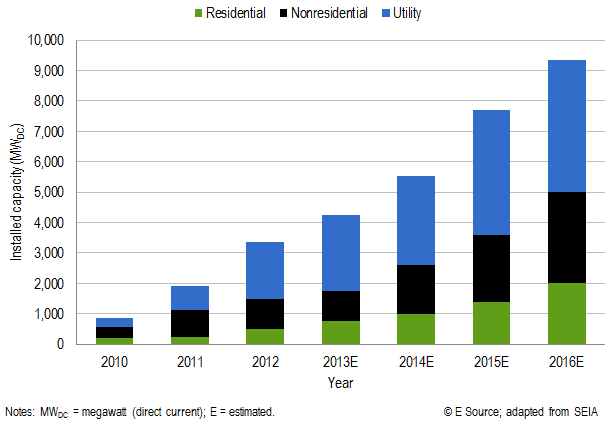 A 2014 Pew Research report(link is external) asserts that decentralization in production has posed similar challenges to the traditional news business model. Newsrooms have had to reevaluate their competitive landscape, taking into account how audiences contribute to the production of news and information through digital technologies. It seems that electric utilities have to do the same as a growing number of homes and businesses produce their own electrical power and adopt more demand-side management strategies to reduce energy use.
As I observe these parallel developments, I see the familiar pattern of an industry adapting to an economic system that has evolved significantly from the pre–World War II model of centralized production and distribution. For both the communications and electric utility industries, I think it's a prime time for reflection and reinvention.
This blog originally appeared on E Source.